Here's a sample of the work I've done at CBC Vancouver, with a focus on social media and web journalism.
Electoral Reform Debate Coverage
Our live blog was a centrepiece of our digital coverage. I used it to curate coverage from reporters on the ground, offer commentary on the debate and re-direct our audience to past stories.
The goal here was to be conversational but authoritative. The average time spent on the blog was 12.6 minutes, indicating a solid level of engagement. I'm only one of two people in the newsroom trained on Scribble Live and am aiming to produce more live blogs in the coming months.
Are you 'woke' enough to make sense of John Horgan's 'lit' quip?
That's the question I asked our readers just a couple hours after the debate wrapped up. I pitched the idea for a write-up on Horgan's one-liner and quickly packaged it together for web. It was the top story on our Facebook page by the next morning, driven by a high level of shares.
Huawei CFO Bail Hearing
I coordinated the breaking social coverage of Meng Wanzhou's bail hearing and used all three social platforms to direct our audience to the biggest story on our website that day.
Our Twitter feed curated the best tweets from our reporters, Jason Proctor and Brian Stewart, who both live-tweeted the hearing. I also pushed out updates every time our web writer updated the file and used a Twitter thread to link to other CBC stories on Huawei, providing our readers more background and context.
While waiting for Meng Wanzhou to leave B.C. Supreme Court, I filmed and posted an IG story to give our audience a real-time view of the action. Two-thirds of the people who clicked on the IG story watched the entire video, which indicates strong engagement.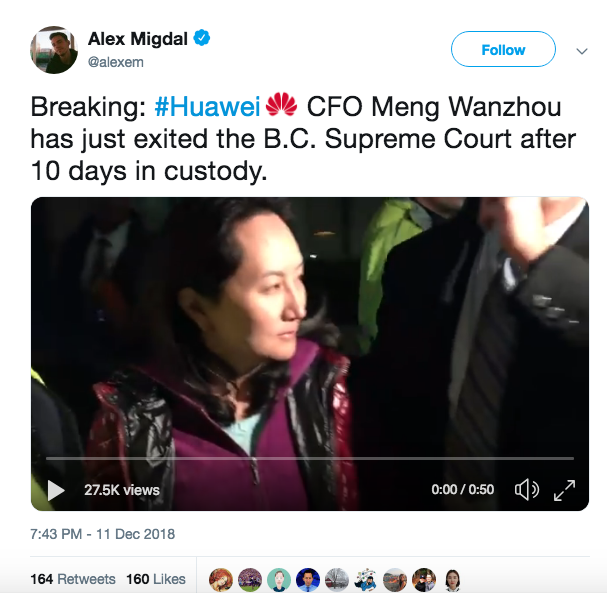 I knew social video of this moment would bolster our coverage and asked the assignment editor that I be stationed at the exit where Meng was likeliest to leave. The key was getting it out as soon as possible. I pre-drafted the tweet, and shot and posted the video within three minutes of Meng exiting the courtroom. I re-tweeted the video to the main CBC account, added it to our IG story and pushed it out on our Facebook page. The video also aired on The National that night. It's a good reminder of how we should always consider social when coordinating breaking coverage.
UGM Christmas Dinner
How can we cover an event that happens every year in a way that's fresh? That's the challenge I've often run into as a weekend social editor. I've pushed our assignment editor to consider social as its own platform and encouraged web writers to consider social treatments rather than resorting to staid web files.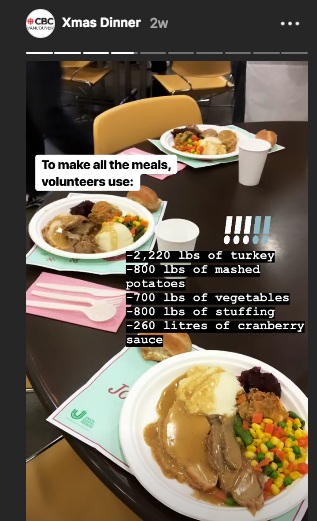 The IG story offered a big-picture view of the dinner — a breakdown of the food and volunteers — plus what was new about the event this year (the last dinner being served at the women and families centre before a renovation).
I also wanted to focus on an individual story in the style of Humans of New York. I met Lucy Featherling, who shared her story with me and posed for a portrait. I pushed the post out on FB and Instagram, where readers fell for Lucy's kindness and grace.
Reporting for web
Despite mostly backfilling as a social editor, I've consistently pitched and written my own web stories over the past year. The social editor is an important middleman between the conversations that users are having online and the stories we consider in our newsroom. Three out of the four stories below that I reported on came from discussions on social media.